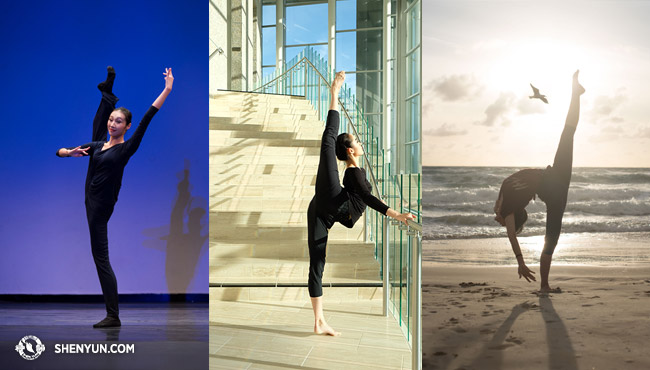 Kick-Start to Classical Chinese Dance
According to the Chinese theory of yin and yang, opposite forces balance each other to create harmony. For us dancers, we need not only softness and flexibility—we also need the explosiveness to pack a punch… with both arms and legs!
Time to Kick It Up a Notch
Classical Chinese dancers must work their legs to achieve ultimate flexibility, power, and dexterity. Kicking (踢腿, or tī tuǐ) serves both as a movement on its own, as well as fundamental training for a myriad of difficult jumps, flips, and other techniques. You can kick forwards, sideways, backwards, or go from front to side and side to front.
In this photo we see Principal Dancer Chelsea Cai, during a dance competition, kicking "side leg" (旁腿, páng tuǐ).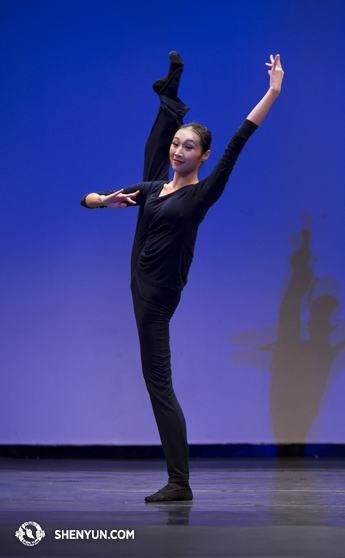 This move may seem simple, but there are a few requirements:
To start, keep both legs perfectly straight.
Always point the toes of your kicking leg (unless the choreographer asks otherwise).
Don't let your arms, torso, or supporting leg be affected by the kicking motion. Zero flinching, wobbling, or yielding.
Maximal accuracy, speed, and height!
Swing It Backwards
One variation of kicking is termed dào tī (倒踢), which loosely translates as "back leg," or "backward kick." To really get swinging, you'll need ample flexibility and range of motion in your hips, your entire spine, and from your shoulders to your arms.
Dào tī zǐ jīn guān (倒踢紫金冠) is a specific back leg move that requires what its Chinese name suggests: both a backward kick and a "gold standard crown" on top of your head.
In this picture you can see Principal Dancer Angelia Wang, warming up before a performance, setting her crown flying with a dào tī zǐ jīn guān.
Practicing this kick provides crucial conditioning for many classical Chinese dance techniques and jumps. A beautiful back leg is especially important for the ladies, and is a must-have, or must-develop, for any aspiring young dancer.
A Little Bird Told Me…
How do you kick forwards while going backwards? Here's one classical Chinese dance technique that answers this riddle:
In Chinese, chuài yàn (踹燕) means "kick the swallow," but rest assured, when performing this technique no animals are harmed.
Swallows are usually found flying high in the sky, so a dancer's foot must extend so high that it can reach the bird; and in order to avoid having her face mercilessly pecked at, the dancer must lower her upper body into a deep back bend.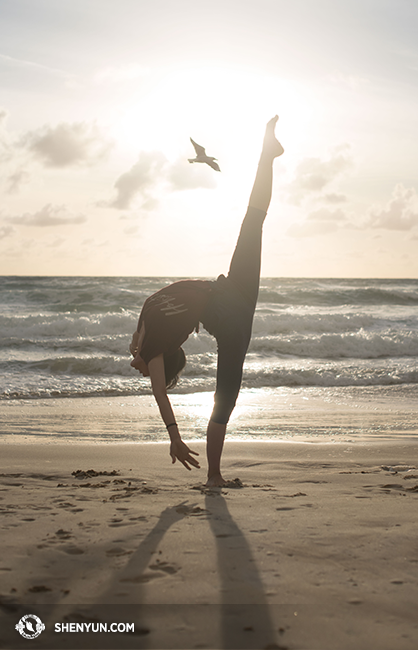 In this picture, dancer Emily Pan, who could not find a swallow, instead performed a "kick the Australian seagull" technique.
When performing this kick, both legs must be kept perfectly straight, and the pelvis should be maximally reclined. Executed well, it is a beautiful harmony of ultimate flexibility, control, and strength. (Oh, and… did you know that the gymnastics back scale movement actually originates from this classical Chinese dance kick?)
Between classes, rehearsals, and performances, a typical Shen Yun dancer kicks well over 500 times a day, or in our dancer parlance—"kick 500 legs." Some even kick thousands of legs! How many legs are you up for today?

Alison Chen
Contributing writer
2016年5月18日